Hello,
Yogita Sagar has studied Bachelor of Dental Surgery (BDS) from Mahe Institute of Dental Sciences & Hospital in 2000 and Diploma in Hospital Management from University of Delhi in 2013. She practices and runs a renowned dental clinic, Sagar's Dental and Renal Care Dental clinic located in Greater Kailash , Delhi. She is a member of Indian Dental Association. With over 18 years of clinical experience and able guidance, you can be sure that you are in safe hands. Her fields of interest include cosmetic and regenerative surgeries including dental implants. She has also worked as a lecturer in ITS Centre for Dental Studies and Research. She has done extensive training in Advanced implantology including sinus lift surgeries from ACI.

About us

Dr. Yogita Sagar "She ensures to prevent dental disease and save the natural tooth as much as possible". White,bright and beautiful ! To light up billions of smiles , Dr. Yogita Sagar Dental Care located in the heart of South Delhi, Greater Kailash is one of the most preferred dentists. The doctor is known to have extensive dental training and to treat all dental problems with efficiency, dedication and precision. The doctor aims at focussing on the patient's satisfaction and making it a pleasant experience for them and has earned a loyal clientele over the years. Renowned and specialised in all the basic and latest dental procedures including dental implants, teeth whitening, porcelain veneers, smile corrections, gap closures, fixed teeth, root canal treatment, gum surgery, braces, kids dentistry, laser dentistry, teeth cleaning, gummy smile correction metal free crowns/bridges, wisdom teeth extractions, dental X-rays etc,the clinic ensures freedom from all dental problems and pain experiences.

Our Strengths

Our Clinic embodies the ethos of Customer-friendly, Cost effective and Complete dental solutions.
Well-equipped clinic with the latest of technological instruments to provide high-quality dental treatment to the patients.
She functions on the concept of providing expertise of the various specialists in dental surgery to provide the top most dental care to the patients.
Pain management systems, sedation techniques, single tooth anesthesia, nitrous oxide, Anesthetic facility.
Utmost priority is given to patient information, sterilization, consultation, explanation of treatment and the follow up after the treatment.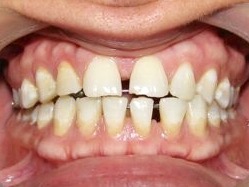 Dr. Yogita Sagar- Pre Treatment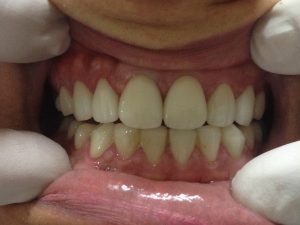 Dr. Yogita Sagar- post Treatment
"She ensure to prevent dental disease and save the natural tooth as much as possible".
"To be a household name, when it comes to the most trusted, caring and reputable dental practice in India."